Burkina Faso coup leader Gen Diendere given ultimatum – BBC News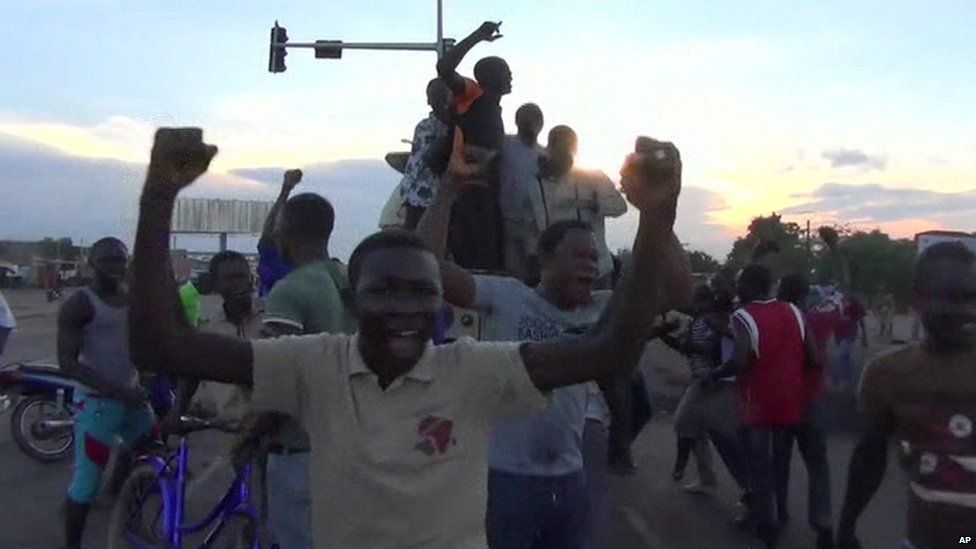 Burkina Faso's army has given the coup leader an ultimatum to surrender or face an assault, as its troops reach the capital, Ouagadougou.
Negotiations between army chiefs and the presidential guard are under way to avert bloodshed, security sources said.
Gen Gilbert Diendere seized power last week after opposing moves to integrate the presidential guard into the army.
He has released the president and the prime minister, following talks brokered by mediators.
The coup has been widely condemned, with the African Union suspending Burkina Faso's membership.
The presidential guard has until 10:00 GMT to give up power, or troops will launch an assault to retake the capital, a senior officer has told the BBC French service.
Gen Diendere says he will step aside once regional leaders, due to meet in Nigeria, endorse a peace plan, including an amnesty for coup plotters.
Prime Minister Isaac Zida was captured by the presidential guard in last week's coup.
France's ambassador to Burkina Faso, Gilles Thibault, has also tweeted that interim President Michel Kafando, who was arrested last Wednesday, has been released from house arrest and is now at the ambassador's residence.
---
Burkina Faso coup
---
Gen Diendere seems to be backed into a corner by international and national pressure, and on Monday thousands gathered to celebrate what they believed was his defeat, says the BBC's Maud Jullien in Ouagadougou.
But in an interview with the BBC, the general said he would only step aside once an agreement proposed by West African leaders was confirmed.
The proposed deal would give him and his troops full amnesty, and allow candidates of former ruler Blaise Compaore to run for presidency in November.
Speaking from a secret location, Gen Diendere said: "Ready to surrender? We are not there yet… We wish to continue the discussions and we say to all that we are ready to implement Ecowas' [West African regional group's] decisions."
He also apologised to the population, saying an apology was "the least we could do".
'Surrender without bloodshed'
The Ecowas plan should be discussed by West African heads of state in Nigeria later on Tuesday.
The presidential guard is loyal to ousted President Compaore and installed Gen Diendere as the new leader last week.
Since then, at least 10 people have been killed and more than 100 injured in clashes.
Burkina Faso's army ordered the presidential guard to disarm before it marched on the capital.
"We must now secure the surrender of the [coup leaders] without gunfire or bloodshed," Col Serge Alain Ouedraogo, of the Burkinabe police, told AFP news agency.
Ecowas' plan includes the return to civilian government, an amnesty for the soldiers behind the coup and elections by the end of November.
But on the streets, there was resentment at the proposals, in particular the amnesty.
"We have no need of Ecowas here, nor the international community," said one man protesting against the coup.
Gen Diendere, who was the chief of staff to Mr Compaore, led the coup a month before elections had been due in the landlocked country.
International pressure has been building, with former colonial power France warning of "consequences" if coup leaders did not lay down their weapons.
---
Are you in Burkina Faso? Are you affected by the unrest? You can share your experiences by emailing [email protected] with your stories.
Please include a contact number if you are willing to speak to a BBC journalist. You can also contact us in the following ways:
Burkina Faso coup leader Gen Diendere given ultimatum – BBC News