Migrant crisis: Eastern European talks as thousands arrive – BBC News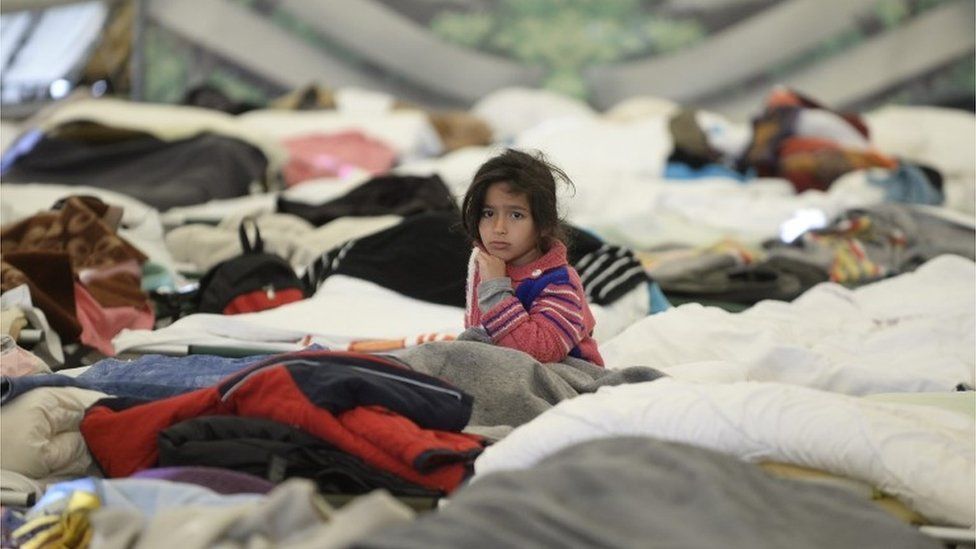 Foreign ministers from four eastern European countries are preparing to meet to discuss the migrant influx amid continuing stark divisions.
The meeting, in Prague, comes as thousands continue to cross the EU's southern borders, and begins a week of intense diplomatic activity.
Poland, Hungary, the Czech Republic and Slovakia remain strongly opposed to accepting obligatory quotas.
Germany and France want migrants shared out more evenly across the EU.
Thousands more migrants entered Austria over the weekend and more are expected to arrive via Hungary on Monday.
Croatia's authorities tweeted that 29,000 had entered its territory by early Monday morning.
'No-one exempt'
EU interior ministers are to meet on Tuesday, with leaders convening for an extraordinary summit the following day.
Divisions among European states were illustrated by French President Francois Hollande, who said that in the EU "no-one can be exempt" from taking in people with the right to asylum.
European Council President Donald Tusk said that the EU should help Syrian refugees to "a better life closer to their homes".
Eastern European countries are stressing the need to protect the EU's external borders and distinguish between economic migrants and refugees, says the BBC's Chris Morris in Brussels.
BBC correspondents report on the migrant crisis:
Will Vernon: In Lesbos, migrants queue for ferry tickets
Nick Thorpe: Most of Hungary's border crossings open
Guy De Launey: Refugees at Croatia-Slovenia border crossing let through
More from the BBC:
What is the next route through Europe?
How is migrant crisis dividing EU countries?
EU migration: Crisis in graphics
At the meeting due later on Monday, the eastern European foreign ministers are expected to reaffirm their opposition to mandatory quotas.
On Monday, Germany's Interior Minister Thomas de Maiziere repeated calls to limit the number of refugees coming into Europe, proposing that the EU creates "generous contingents where we take people from crisis regions into Europe without traffickers and distribute them across Europe".
As the migrant wave continued, Austria welcomed 10,000 people on Saturday and predicted the same for Sunday.
In the town of Nickelsdorf on the border with Hungary, where hundreds of people have been camped out, two buses arrived during the night at the bus station, reports the BBC's Anna Holligan.
When they arrived, they picked up bottles of water and blankets, and then lay down on the concrete to sleep.
It looks a little bit like Armageddon, our correspondent says; there is rubbish everywhere, strewn across the ground; there are people sleeping wherever they can find a space, she says.
Most travelled in from Hungary and Croatia. Budapest is now rushing to finish a new fence along its Croatian border.
In Croatia, some 40 buses arrived at Opatovac camp on the border with Serbia overnight, and eight left on Monday morning, amid indications they were being taken to the Hungarian border, even though no-one knows for definite, the BBC's Ron Brown reports.
Hungary has reopened its border crossings with Serbia, but with strict controls – its closure earlier in the week sent large numbers of migrants into Croatia.
Croatia initially welcomed the migrants, but then said it was unable to cope with the numbers and moved them over its border with Hungary, which quickly ferried them on to Austria.
The largest group arriving in Europe are Syrians escaping the conflict there, followed by Afghans, then migrants from Eritrea, Nigeria and Somalia, fleeing war and human rights abuses.
A large proportion of those seeking asylum are heading to Germany.
Many migrants reaching the EU from sub-Saharan Africa or the Western Balkans fail to get asylum, as they are classed as economic migrants.
At least 13 migrants, including several children, died when their dinghy and a ferry collided off Turkey, the coastguard said. The boat was on its way to the Greek island of Lesbos.
In a second incident, Greece's coastguard said 26 people were feared missing from a boat, also off Lesbos.
The US has meanwhile said it would increase its worldwide intake of refugees from 70,000 in 2015 to 85,000 next year and 100,000 in 2017.
Migrant crisis in Europe: Recent key dates
13 July: Hungary starts building razor-wire fence on border with Serbia
25 Aug: Germany says all Syrian refugees can apply for asylum there, regardless of which EU country they first entered
2 Sept: Image of body of three-year-old Syrian Alan Kurdi, washed ashore in Turkey, moves public opinion worldwide
12 Sept: Record 4,330 migrants cross into Hungary
13 Sept: In a switch of policy, Germany introduces border controls with Austria; other EU nations later impose their own controls
15 Sept: Hungary enforces tough laws on migrants crossing its border fence, prompting thousands to turn to Croatian route
18 Sept: Croatia transports migrants over its border into Hungary, which ships them on to Austria
19 Sept: Thousands cross into Austria, which prepares to send many on to Germany
A note on terminology: The BBC uses the term migrant to refer to all people on the move who have yet to complete the legal process of claiming asylum. This group includes people fleeing war-torn countries such as Syria, who are likely to be granted refugee status, as well as people who are seeking jobs and better lives, who governments are likely to rule are economic migrants.
---
Are you in Austria? Are you in an area affected by the route of migration? Email [email protected] with your experiences.
Please include a contact number if you are willing to speak to a BBC journalist. You can also contact us in the following ways:
Migrant crisis: Eastern European talks as thousands arrive – BBC News