Index Futures Drop With Ringgit on Growth Woes; VW Set to Tumble – Bloomberg
Global markets don't know what to make of the Federal Reserve anymore.
Treasuries and emerging-markets stocks fell as three Fed policy makers argued that interest rates may rise this year, days after a September increase was rejected amid financial-market volatility. U.S. stock futures rose with European shares, while Volkswagen AG plunged 21 percent after admitting to cheating on U.S. air-pollution tests. Zinc dropped to the lowest in more than five years.
Interest-rate futures now give a 20 percent chance of an increase at the Fed's October meeting, and a 49 percent probability of a move by December, according to data compiled by Bloomberg. San Francisco Fed President John Williams, a policy centrist who has worked closely with Chair Janet Yellen, said Sunday that "in my mind, it was a close call" to delay a rate rise at last week's Federal Open Market Committee meeting.
"We are still in a post-Fed sort of malaise, and are now trying to determine where broader policy goes from here," said Jeremy Stretch, head of foreign-exchange strategy at Canadian Imperial Bank of Commerce in London. "That's why the language and the rhetoric of the various officials is going to be increasingly important as we again try and interpret and second guess the Fed."
The yield on 10-year Treasuries rose three basis points to 2.17 percent at 8:10 a.m. in New York, after dropping 16 basis points in the previous two days. Emerging-market stocks declined the most since Sept. 4. The Stoxx Europe 600 rose 1.2 percent, led by health-care shares. Standard & Poor's 500 Index futures signaled the first gain for U.S. stocks in three days.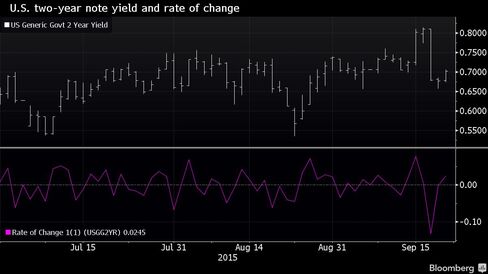 Uncertainty over the global outlook and the Fed's next move has stoked equity volatility, with the Chicago Board Options Exchange SPX Volatility Index, a measure of expected swings in U.S. stocks, climbing 5.4 percent on Friday.
"The Fed last week probably confused markets," said Owen Callan, a Dublin-based fixed-income strategist at Cantor Fitzgerald LP. "The reaction we got from the equity markets in particular has worried people."
Emerging Markets
The MSCI Emerging Markets Index slid 1.5 percent, as benchmark gauges in South Korea, Taiwan and Malaysia dropped more than 1.5 percent. Malaysia's ringgit weakened 1.8 percent and South Korea's won lost 1 percent, leading declines in currencies.
The Hang Seng China Enterprises Index, which tracks mainland companies listed in Hong Kong, slid 1.3 percent, after closing Friday at a one-month high. The Shanghai Composite Index increased 1.9 percent, reversing a slide of 1.2 percent, with trading volumes 36 percent below the 30-day average.
President Xi Jinping makes a state visit to the U.S. this week.
Bonds
Yields on two-year Treasuries rose three basis points to 0.70 percent. U.K. government bonds also fell, pushing the 10-year gilt yield three basis points higher to 1.86 percent.
Greek two-year notes rose, sending the yield 36 basis points lower to 10.45 percent, after the nation voted Alexis Tsipras and his Coalition of the Radical Left, or Syriza, into power for the second time in eight months.
Stocks
RSA Insurance Group Plc tumbled 20 percent after Zurich Insurance Group AG abandoned plans to make an takeover offer. Zurich also fell after saying it expects a loss in its general insurance business. Shire Plc climbed as much as 3.6 percent after winning European approval for its Intuniv treatment for attention deficit hyperactivity disorder.
European auto stocks dropped the most in about four years. Volkswagen plunged after saying it had cheated on U.S. air-pollution tests for years, risking billions in potential fines and a backlash from consumers in the world's second-biggest car market.
S&P 500 E-mini futures expiring in December rose 0.6 percent. The index ended last week little changed.
Currencies
The euro dropped 0.4 percent to $1.1252. Goldman Sachs Group Inc. said the single currency may fall as much as 10 U.S. cents because the European Central Bank is set to increase currency-weakening stimulus to meet its inflation target.
The yen fell 0.4 percent to 120.45 per dollar. New Zealand's dollar weakened 0.6 percent as a gauge of consumer confidence slid to the lowest since 2012 for the third quarter.
The Bloomberg Dollar Spot Index, which tracks the greenback against 10 major currencies, rose for a second day.
Commodities
West Texas Intermediate crude added 2.7 percent to $45.90 a barrel, after sinking 4.7 percent on Friday amid concern over the global glut. Brent crude rose 2.3 percent following a 3.3 percent drop on Friday.
Venezuela and Saudi Arabia agreed to work together to restore stability in the oil market. Commercial petroleum stockpiles in Saudi Arabia, the world's biggest crude exporter, increased to 320 million barrels, the highest since at least 2002, according to data Sunday on the website of the Riyadh-based Joint Organisations Data Initiative.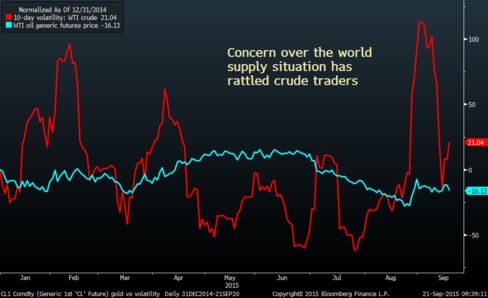 Zinc fell 1.2 percent in London because of a surge in inventories and investor concern about whether China's economic slowdown will sap demand. Nickel and copper gained.
Gold for immediate delivery slipped 0.7 percent to $1,131.30 an ounce, following a weekly advance of 2.8 percent.
Index Futures Drop With Ringgit on Growth Woes; VW Set to Tumble – Bloomberg}