Emerging Currencies, Asia Shares Drop on Growth Woes; VW Tumbles – Bloomberg
Emerging-market currencies retreated with Asian stocks and U.S. equity-index futures as concern global growth is faltering spurred investors to sell riskier assets. Volkswagen AG tumbled the most since 2009 after the company was found to have cheated on U.S. pollution tests.
Malaysia's ringgit and South Korea's won led losses in developing-economy currencies. Volkswagen fell 13 percent on surging volume, pegging back an advance in the Stoxx Europe 600 Index. All 10 industry groups on the MSCI Asia Pacific excluding Japan Index fell. U.S. equity-index contracts signaled a third day of losses after Federal Reserve members over the weekend talked up prospects for a 2015 interest-rate increase. Japanese markets are closed through Wednesday.
"The key thing is that the markets are looking for global growth and we're not seeing any," Raymond Chan, the chief investment officer for Asia Pacific at Allianz Global Investors, which oversees about $344 billion, told Bloomberg TV in Hong Kong. "It's the U.S. and China driving sentiment — it's pretty bad. I'd prefer if there was a U.S. rate rise once and for all, and that would clear away all the uncertainty. Volatility is going to continue to exist for a long while."
Three Fed policy makers argued that higher borrowing costs are still warranted this year, commenting after the central bank decided to stand pat amid global financial-market volatility and concern about the impact of an economic slowdown in China. European Central Bank officials are due to speak on Monday amid speculation policy makers there will add to stimulus to meet their inflation target.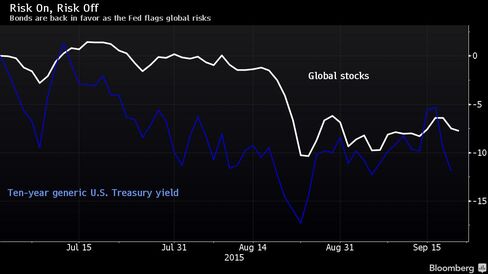 The Korean won and Malaysian ringgit weakened at least 1 percent, dragging a Bloomberg gauge of 20 developing-market currencies toward a second straight loss. The Stoxx 600 climbed 0.4 percent by 7:15 a.m. London, while Standard & Poor's 500 Index futures dropped 0.2 percent, while Treasuries weakened.
The MSCI Asia Pacific excluding Japan Index sank 1.8 percent, the most in almost three weeks. The S&P/ASX 200 Index tumbled 2 percent in Sydney, while the Hang Seng Index retreated 1 percent and Seoul's Kospi gauge slid 1.6 percent. New Zealand's dollar fell 0.7 percent after consumer confidence dropped to a three-year low.
Yields on German 10-year notes were little changed after sliding Friday, while rates on Australian and New Zealand 10-year debt dropped by at least three basis points. U.S. oil was at $45.53 a barrel, while copper swung to a gain of 0.6 percent after Friday's 2.5 percent slump.
Futures now give just a 20 percent chance of a rate increase at the Fed's October meeting, and 46 percent probability of a move in December. San Francisco Fed President John Williams, a policy centrist who has worked closely with Chair Janet Yellen, said Sunday that "in my mind, it was a close call" to delay a rate rise at last week's Federal Open Market Committee meeting.
Uncertainty over the global outlook and the Fed's next move has stoked equity volatility, with the Chicago Board Options Exchange SPX Volatility Index, a measure of expected swings in U.S. stocks, climbing 5.4 percent on Friday.
Stocks
Germany's DAX index slid 0.3 percent. Volkswagen tumbled as the company faces fines that could total $18 billion and possible criminal charges for executives. The company was faulted by U.S. authorities for outfitting nearly half a million diesel VW and Audi vehicles with software that turns on full pollution controls only during official tests.
Hong Kong's Hang Seng Index was lower after capping its first back-to-back weekly gains since May. The Hang Seng China Enterprises Index, a gauge of mainland stocks listed in the city, sank 1.5 percent after finishing Friday at its highest since Aug. 21.
The Shanghai Composite Index swung between gains and losses before finishing the day 1.9 percent higher. China Railway Group Ltd. jumped 7.1 percent after it said it will inject industrial manufacturing units into China Railway Erju in exchange for assets.
Bonds
Yields on 10-year Australian notes fell five basis points, or 0.05 percentage point, to 2.72 percent in a second day of declines. Rates on similar maturity New Zealand debt slipped four basis points to 3.28 percent.
Ten-year Treasury yields rose three basis points to 2.16 percent. German bunds were steady after the yield on notes due in a decade plunged 12 basis points Friday
"We expect to remain bearish," Stewart Richardson, chief investment officer at RMG Wealth Management LLP in London, said by e-mail. "The Fed seems to be coming in for more criticism from all sides, and with markets falling after a dovish meeting, we believe that their credibility is now being openly questioned. We continue to believe that long-term investors should be holding a lot of cash at this point in the cycle."
Commodities
Major U.S. equity indexes slipped more than 1 percent Friday, as crude oil retreating back below $45 a barrel drove losses among energy stocks.
West Texas Intermediate crude added 1.8 percent Monday, after sinking 4.7 percent on Friday amid ongoing concern over the global glut. Brent crude rose 1.5 percent to $48.19 following a 3.3 percent drop at the end of last week.
Commercial petroleum stockpiles in Saudi Arabia, the world's biggest crude exporter, increased to 320 million barrels, the highest since at least 2002, according to data Sunday on the website of the Riyadh-based Joint Organisations Data Initiative. Venezuela and Saudi Arabia agreed to restore stability in the oil market, Foreign Minister Delcy Rodriguez said on Twitter over the weekend.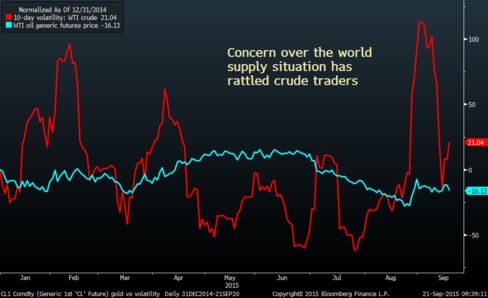 Gold for immediate delivery was little changed to $1,139.15 an ounce following a weekly advance of 2.8 percent.
Currencies
The kiwi weakened to 63.58 U.S. cents after a gauge of consumer confidence slid to the lowest since 2012 for the third quarter. The won slipped 1 percent to 1,174.67 a dollar after rallying last week. The ringgit sank 1.4 percent following Friday's selloff in crude.
Bloomberg's Dollar Spot Index, which tracks the greenback against 10 major peers, was little changed at 1,200.94 after snapping a two-day drop on Friday to climb 0.7 percent.
Emerging Currencies, Asia Shares Drop on Growth Woes; VW Tumbles – Bloomberg}